CELEBRATE
Key figures in black history and those shaping our future
Ruby Bridges
@rubybridgesofficial Born 1954
In 1960, Ruby Bridges was the first Black child to desegregate an all-white elementary school in the South. At the age of 6, Bridges was escorted to school by federal marshals, met with verbal attacks from racist protesters, and was the only student in her class for an entire year. Bridges is an activist, author, speaker, mother, and the founder of The Ruby Bridges Foundation. Today, Ruby Bridges is 66 years old.
Source: https://www.womenshistory.org/education-resources/biographies/ruby-bridges
Fredrick Douglas
1818-1895
Fredrick Douglass was an abolitionist, author, speaker, reformer, and leader who advocated for the end of slavery and voting rights for all people, including women. Douglass escaped enslavement around 20 years old. Once living in Massachusetts, he started attending abolitionist movement meetings and became a part of the American Anti-Slavery Society's "Hundred Conventions" project. He authored 3 autobiographies and published an abolitionist newsletter called North Star (later called the Fredrick Douglass' Paper). During the Civil War, Douglass supported president Abraham Lincoln but was disappointed that Lincoln didn't grant formerly enslaved people the right to vote with the Emancipation Proclamation. Years after Lincoln's death, Douglass spoke at the dedication of the Emancipation Memorial in 1876. In later years, Douglass worked for the government and became the first Black man to hold high office in the US as the ambassador to the Dominican Republic.
Source: https://www.history.com/topics/black-history/frederick-douglass
Brittany Packnett Cunningham
Born 1984
Brittany Packnett Cunningham centers her work as an activist, educator, and writer at the intersection of culture and justice. She is a contributor at NBCNews and MSNBC, a fellow at Harvard's Institute of Politics, a founder of Love & Power Works, and a co-founder of Campaign Zero.  She currently hosts UNDISTRACTED and co-hosted Pod Save The People for 3 years. Her TED Talk on the revolution of confidence has been viewed millions of times, and her book, We Are Like Those Who Dream: Black Women Speak, is set to be available in early 2022. President Obama said she is a leader whose "voice is going to be making a difference for years to come." You can support her work at brittanypacknett.com
Thank you, @mspackyetti for your leadership and voice
Source: https://brittanypacknett.com/bio
James Baldwin
ames Baldwin is best known for his influential writings surrounding racial equality. Baldwin grew up in the US and found his passion for writing at a young age. He spent a few years as a preacher before deciding to leave the pulpit to eventually end up in Greenwich Village as a freelance writer. Baldwin secured a grant which allowed him to focus solely on his writing. Baldwin moved to Europe where he finished his first novel, now considered an American classic, Go Tell It on the Mountain, published in 1953. Over the next 10 years, Baldwin authored four books, two of which became immediate bestsellers. After returning to the US to take part in the civil rights movement, he authored The Fire Next Time, which explored Black identity and the state of racial struggle. This is the book that put Baldwin on the cover of TIME Magazine. Baldwin returned to France where he wrote If Beale Street Could Talk (1974). He spent his last ten years of life producing powerful works of fiction, non-fiction and poetry and passed away in 1987.
Source: https://www.pbs.org/wnet/americanmasters/james-baldwin-about-the-author/59/
Tamika Mallory
Tamika Mallory is a civil rights activist, organizer, speaker, and mother fighting racism, sexism, and gun violence today. In 2011, Mallory became the youngest executive director of Reverend Al Sharpton's National Action Network. In 2017, she was a co-chair of the Women's March on Washington (the largest single-day protest in US History) and later became the co-president of The Women's March Inc. Most recently, Mallory was a co-founder of Until Freedom, a social justice organization fighting systemic and racial injustice. As of this week, Tamika is  a nominee for the NAACP Image Award in the Social Justice Impact category! You can support Tamika's work at untilfreedom.com
Thank you, @tamikadmallory for your steadfast leadership. We pray blessings over your work, health, and family. We pray that the Lord would continue to amplify your voice as you lead this generation toward justice and healing.
Don Shirley
Don Shirley was a Jamaican American pianist and composer. Shirley showed interest in piano from a very young age, he began playing the organ at church at the age of three! By age nine, Shirley left to study theory at the Leningrad Conservatory of Music in the Soviet Union. He received lessons in advanced composition at The Catholic University of America in Washington D.C. By the age of 18, Shirley debuted in concert with the Boston Pops where he performed Tchaikovsky's Piano Concerto No. 1 in B flat. His first major composition was performed by the London Philharmonic Orchestra a year later. Shirley developed his own genre which melded spirituals, blues, popular music and show tunes.  In 1955, he began recording his unique renditions of popular songs and in that same year,  Shirley made his Carnegie Hall debut and went on to perform with several extinguished symphonies and orchestras. The Don Shirley Trio, comprised of Don Shirley, bassist Ken Fricker and cellist Juri Taht, collaborated on projects throughout the years. After developing tendinitis in his right hand in the early 1970s, Shirley disappeared  from the public eye. He performed occasionally in the 2000s. In 2001, he released the album, Home with Donald Shirley, with the help of a student. Don Shirley passed away in 2013.
Source: https://www.biography.com/musician/don-shirley
Madam C.J. Walker
1867-1919
Madam C.J. Walker was an entrepreneur who pioneered the modern Black hair-care industry. She is the first female self-made millionaire in the USA. Alongside her business, Walker was a philanthropist and an advocate for anti-lynching legislation. Walker was born in Louisiana to parents who had been enslaved. They passed away when she was 7 years old. In her 20s, Walker suffered from a scalp ailment that caused hair loss. In 1905, Walker started selling Madam Walker's Wonderful Hair Grower (a scalp conditioning and healing formula). She spent a year and a half traveling all over the US to sell her products. In 1908, she opened Lelia College, her first school to train "hair culturists." Shortly after, she built a factory, a hair and manicure salon, another training school, and expanded her business to Central America and the Caribbean. The Madam C.J Walker Hair Culturists Union of America facilitated one of the nation's first national businesswomen conventions. At the convention, Walker encouraged her agents to engage in activism, "We must not let our love of country…cause us to abate one whit in our protest against wrong and injustice."
A special thank you to Walker's great great granddaughter, A'Lelia Bundles (@aleliabundles), who founded the Madam Walker Family Archives and continues Madam C.J. Walker's legacy today!
Source: https://madamcjwalker.com/about/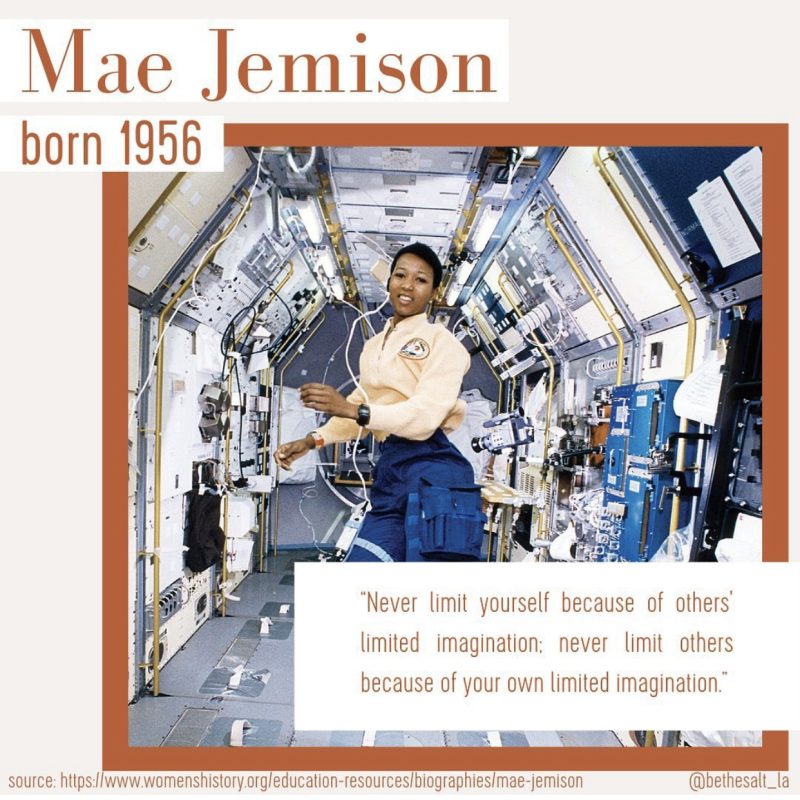 Mae Jemison
Born 1956
Mae Jemison was the first African American woman to travel in space. Jemison grew up in Chicago, IL. After graduating high school at 16 years old, Jemison left Chicago to attend Stanford University. She graduated Stanford with two degrees: one in Chemical Engineering and one in African and African – American Studies. She went on to receive her Doctorate of Medicine at Cornell Medical School. Mae began practicing general medicine and soon after joined the Peace Corps where she served for two years. Jemison decided to apply to the Astronaut Program at NASA and was 1 of 15 people chosen from over 2000 applicants. She became the first African American woman to be admitted into the program and a year later, became the first African American woman astronaut. On September 12, 1992, Jemison and six other astronauts went to space in the space shuttle Endeavor.After 6 years of service at NASA, Jemison left and continued to make an impact over the years!  Jemison has taught Environmental Studies at Dartmouth College, created an international space camp for young students (TEWS), accepted a Professor-at-Large position at Cornell University, founded a nonprofit, The Dorothy Jemison Foundation for Excellence, became the first real-life astronaut to appear in a Star Trek Episode, and authored a children's book. She currently leads the 100 Year Starship project and serves on the Board of Directors for several organizations.
Source: https://www.womenshistory.org/education-resources/biographies/mae-jemison
Matthew Henson
1866-1955
In 1909, Matthew Henson became the first explorer to reach the North Pole. At the age of 12, he became a cabin boy on a ship. For 6 years, he traveled the world and became a competent sailor and alongside gaining many other technical skills. Henson's next adventure was exploring Nicaragua for 2 years with Navy Corps Civil Engineer Robert Peary. Later, Henson and Peary started an 18-year partnership exploring the Arctic. Henson built and maintained all of the sleds, was fluent in the Inuit language, learned the methods the Inuit used to survive the Arctic, and trained all recruits during attempted expeditions. After 7 failed attempts, Henson and Peary finally successfully reached the North Pole. On the day they reached the North Pole, Henson was the lead sled, and his footprints marked the top of the world first. Reaching the North Pole strained Peary and Henson's friendship. Upon returning to the US, Peary was credited as the first man to reach the North Pole, while Henson was credited as a companion. Almost 30 years later, the Explorers Club of New York made Henson an honorary member, and in 1946, he was awarded the same medal Peary was given earlier by the US Navy. In 1954, President Eisenhower invited Henson to the White House to give him a special commendation for his work as an explorer. In 2000, the National Geographic Society presented Henson posthumously the Hubbard Medal (Robert Peary was the first recipient of this award in 1906).
Source: https://www.nationalgeographic.com/adventure/article/the-legacy-of-arctic-explorer-matthew-henson
Cicely Tyson
1924-2021
Cicely Tyson was an award-winning actress with a 70-year long career on the stage and screen. She was always very thoughtful with the roles she would accept, and some of her credits include Sounder, Roots, The Autobiography of Miss Jane Pittman, and The Help. Tyson received 3 Emmy Awards, 1 Tony Award, and was inducted into the Black Filmmakers Hall of Fame in 1977. She was honored by the Congress of Racial Equality and by the National Council of Negro Women, and in 2010, the NAACP awarded her the 95th Spingarn Medal. In 2016, President Obama honored her with the Medal of Freedom.
Source: https://www.biography.com/actor/cicely-tyson
W.E.B. Du Bois
868-1963
W.E.B. Du Bois was an activist, scholar, author, educator, and leader who co-founded the NAACP. In 1895, Du Bois became the first Black person to receive a doctorate from Harvard University. His dissertation, "The Suppression of African Slave Trade to the United States of America, 1638-1870," was published as No. 1 in Harvard Historical Series. In response to violence against Black people in the USA, the NAACP was established in 1909. Throughout his years of leadership within the NAACP, Du Bois was the director of publicity and research and the director of special research. He also founded and edited The Crisis, NAACP's monthly magazine. With over 2 million activists and 2,200 units and branches, the NAACP continues to fight for political, educational, social, and economic equality to eliminate race-based discrimination today.
Source: https://www.naacp.org/naacp-history-w-e-b-dubois/
Dr. Bernice A King
Born 1963
Dr. Bernice A King is an activist, speaker, educator, leader, and CEO of The King Center. Her work continues her parents' (Martin Luther King Jr. and Coretta Scott King) legacy of the nonviolent pursuit of racial justice. Under her leadership, The King Center has launched Camp NOW Leadership Academy, Nonviolence365 Trainings, and The Beloved Community Talks. King has a Doctorate of Law and received an honorary Doctorate of Divinity. She is a member of the State Bar of Georgia, the International Women's Forum, and the National Council of Negro Women. In 2020, The Congressional Black Caucus Foundation, Inc awarded King the Phoenix Award.
Source: https://thekingcenter.org/about-tkc/our-ceo/
This is just a short list of a few black historical figures and pioneers who are shaping our future. May you continue the journey of celebrating and supporting our black brothers and sisters.